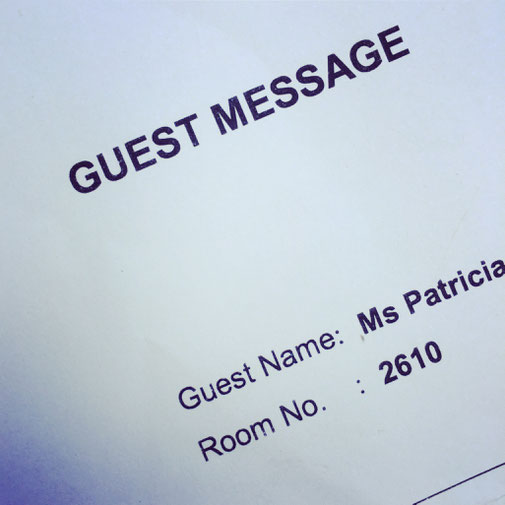 It was one of those evenings...
after a long, hot and busy day in Bangkok. I was tired from organising things and walking around in the vibrant streets of Thailand's capital - and I was only partly successful in what was on my list for that day. When I left the hotel in the morning I was dressed up, felt fresh, motivated and energised. Now I was soaked up with sweat and yes, I felt dispirited. Things were not going like I wished they would. 
Tired and down as I was when I opened the door to my room, I was suddenly delighted when I entered it. There was this little note from the manager, stating that someone has left something for me – and I knew this must have been my dear friend.
The evening before she talked so passionately about two books – and she said she would love to give them to me. We both love books and reading. And she knew I was going through a special time at the moment. The books she gave me are called "Bring your mental self back home" and "Einstein questions and Buddha answers".
That the books themselves delighted me was clear. But there was so much more magic in the way she organised it to give it to me.
The spontaneous thought in which she had decided to share them with me, how she had arranged to give them to me before I leave Bangkok on the next day. And that change of energy that happened within me immediately after I opened the door to my room.
And this is what little gifts do with us. They lift us up. It's not the size or value that matters, but the thoughts the other person spends on it. Whether because someone thinks carefully or spontaneously what we like or need the most at a certain moment or if they focus on easing our heavy brain for a little while by simply doing a silly joke – e.g. did you ever realize how funny it can be when you receive a rubber duck in the exactly wrong moment but from the exactly right person? 
This alone is already a gift. Another person spends a thought on us. Wants to make us happy. They present us with their time and attentiveness. And the physical gift they give us in addition will remind us of that certain moment when we received it, and how we felt. Some beautiful books as well as a funny rubber duck or a personal music tape (yes tape) can have a huge impact and with this it strengthens the bond.
 Don't get me wrong now, I'm not about to promote commercial giving over the value of a non-material experience. The incredible value of a joint experience with a loved one is undeniable and worth its own thoughts and gratefulness. But I really do believe in the impact and value of physical little gifts, carefully chosen by the giver. This could also be something very small, a handcrafted, folded paperbird for example. Above all, the gift of giving is the giving itself.
In this respect I like to share a good article from Tara Parker-Pope, published in the New York Times many years ago during the holiday season:
http://www.nytimes.com/2007/12/11/health/11well.html
Tracy Ryan, an associate professor of advertising research at Virginia Commonwealth, sums it up beautifully "It shows that a lot of the pleasure is in the giving, knowing you've taken care of someone." And the receiver feels taken care of. My friend couldn't change anything of my situation but I felt truly taken care of on that evening in Bangkok.
Love,
Tricia