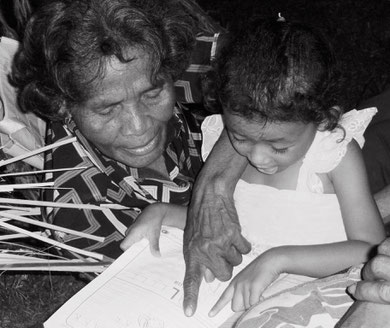 When I lived with a Thai family during my voluntary service I was particularly amazed about my host mother. Hue, a vivid, cordial short woman in approximately her late 60ies. She was very blithesome, curious, diligent and keen to learn new things. But what has touched me the most was her incredible attentiveness. Here some example for it:
The bathroom of the house did only comprise a toilet and a shower with a hose, no sink or tap. So I found it a bit difficult to brush my teeth if not under the shower and preferred to take a gulp or two out of the bottle with drinking water she prepared every day for me in the room. But since I knew how precious the water was there and that this was supposed for drinking and not to rinse my mouth I took care that I only carried an almost empty bottle with me to the bathroom, and also to hide it, if I passed them in the living room. But one evening I forgot the empty bottle in the bathroom. In the next morning I found a full 1.5 l bottle next to the hose. I was so touched but at the same time I felt ashamed. She now knew that I used drinking water to just rinse my mouth, just because it felt more handy..)
Another example was the fresh coconut treat; in the late afternoons I used to sit around the veranda to relax a bit after I taught at the school. One day she came along from the field with a fresh coconut, prepared and ready to drink. With a bright smile she passed it over to me and I felt in heaven. After she left I remembered that there was a fridge in the kitchen. I thought of how nice it would be to chill it a bit since the climate was incredible hot and humid at that time. In the meaning I was alone in the house I left the veranda and put the coconut in the fridge, went back to my reading corner and after a while returned to the kitchen and took the well-chilled coconut drink with me – all unattended, at least that was what I thought. The next day I was again relaxing on the veranda after school when she came by, with an even brighter smile and said "maphraw yen, maphraw yen!" (cold coconut, cold coconut) and she handed me over a fresh, but ice-cold chilled coconut. I was speechless, and her smile of acknowledgment was unbeatable. I was touched at my heart and the business economist in me thought; customer service at its best!
If in business or in personal relations – attentiveness is the key and has an incredible positive power. It's a gift; and it rewards the giver and the receiver.
When we pay full attention to someone or something we are fully there, the person or the activity is truly important to us – and the other person can feel that and feels sincerely appreciated. The often so important feedback-loop is already automatically included, passively yet very present. Attentiveness means having a higher level of awareness.
Also in business, and not only towards clients; in a Harvard Business Review blog, Sydney Finkelstein, Professor of Management and Director of the Leadership Center at Dartmouth College, says that the common denominator what makes someone an amazing boss is attentiveness. "Pay close attention to your employees as individuals. Take that extra bit of time to build their confidence and articulate a vision; to provide constant, ongoing, high quality feedback; and to listen to their ideas", he says. And I would add, not only listen to their ideas but also watch their action, their behaviour, and whenever you talk to them; be fully present.
Especially in the upcoming season holidays, paying attention and attentiveness to others is the most important gift we can share and give.
With this thoughts I am wishing you all who celebrate it a very merry Christmas and a happy New Year! Don't forget to pay attention to your loved ones, but also to your employees and to the stranger on the street.
With warm season greetings,
Tricia