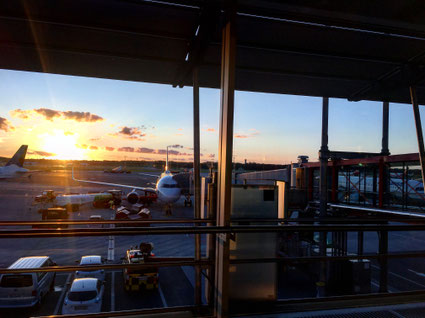 Maybe I am the only one coming up with such an analogy but somehow, being caught for hours in a tiny aeroplane seat (speaking of economy class), together with a lot of strangers for hours, can create something calming - because we all share something in common; being constipated in confined spaces, all facing the same destiny for the next couple of hours. No one really loves it yet probably most of us do it voluntarily, again and again. Me inclusive; many long-haul flights year after year.
Hence, I certainly have a long list of incidents and events, when things didn't go according to schedule (i.e. I have a "right touch" for being stranded for hours on airport terminals..) or special events with passengers and/or security matters. 
But for today I picked three of all the beautiful encounters, happening when you sit next to a stranger and -instead of watching a movie or sleeping (or fighting with your tears)- you start to have a wonderful conversation. For example, there was this radiant African woman next to me when I left South Africa after another amazing time there. I had a window seat and when the plane took off I pressed my nose into the window and felt like someone would literally torture my heart, stabbing into it, again and again; I had again to leave a country which has deeply touched and influenced me, and moreover, a person, to whom I lost my heart at that time. I felt like the aeroplane is pulling me violently away, I tried to fight back my tears… and somehow I turned my face to this woman next to me. She reached out her hand and said with the brightest smile I've ever seen; "Hi, I am Liz". I was so overwhelmed by her direct bright approach that I took her hand and introduced myself. Then she continued how extremely excited she is to finally, finally sit here, being able to visit her son who lives in Switzerland and with that she will finally, for the very first time, meet her grandson….. you could literally feel how excited she was, she still couldn't believe that she is really sitting in an aeroplane… she continued and said, that this is the very first time in her whole life that she flies. I was so touched by her emotion, my eyes could definitely not stay dry any longer – but now it was joy which moved me into tears. She had no idea of how much she has just comforted me, simply with her joy and presence.
Or there was this retired man on my flight back from Kathmandu to Istanbul. A Finn, who despite his age, still worked for a Swiss development project in Kathmandu. He started the conversation by apologising for all the coughing next to me and added that it wasn't contagious – that it was just the "Kathmandu-disease" (he meant that the strong air-dust-pollution in the city starts the sooner or later to affect your lungs). I acknowledged his politeness and replied with a "no problem" – I indeed didn't care at all because I was incredibly tired. I was almost already asleep when he added something more, and to be not rude by just ignoring him it was now me who apologised for being so extremely tired. I added that I would have appreciated to talk with him but that I had barely slept last night and that I was still exhausted from the trekking I did in the Himalayas. I could hardly stay awake any longer… but then somehow I realised that he really felt the urge to talk about his work and life. I looked up at him and apologised again for really not being able to talk, but that he please shall continue to tell me his story which started to caught my interest. After a while – I could rest and he did all the talking – I started to ask questions. And he started to give me advices regarding my studies and other things business related. When we landed in Istanbul we finally introduced ourselves to each other, shook hands and parted. That it was. Years later, I think of this conversation in so many moments of my working life that I am so glad I didn't sleep on that flight.
A funny yet reflective encounter was that Thai woman on my last flight from Bangkok to Denpasar. We were lucky because the middle seat between us stayed free. I was again very tired after I had already a 10hours afternoon flight from Switzerland behind me and the jetlag was fully taking in after another 3hrs hanging around at the airport in Bangkok. I must have fallen asleep during take-off and when I opened my eyes, I felt something pressing against my ribs - it was her head on my armrest, her body was laying in full length of the two seats. I felt like having less space as if a third person would had been sitting there.
I somehow thought: that's bit rude and I'd even say reckless as normally in such a case both shall have a little advantage of maybe just taking up our feet, both using the half of the free seat space. So I was so "rude" and tapped her shoulders, asking her politely to maybe remove her head from my ribs. She was totally surprised and said; "oh I thought we just both sleep in shifts; first me and then you – and you know it would had been so rude to put my feet towards you…."
I couldn't help but had to smile; of course, for a Thai there is nothing ruder than to put your feet towards someone… So what I considered as reckless was indeed, in her way of understanding, nothing else than the opposite.
These small stories are nothing special but beautiful reminders what an impact (comforting, advising, reflective in my three cases) a spontaneous conversation with a stranger can have in our life.