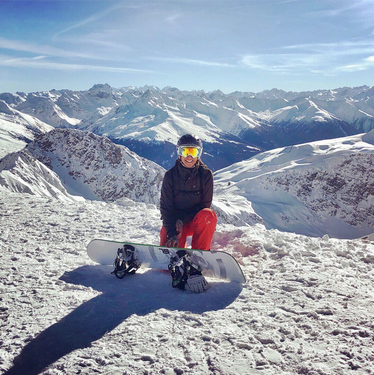 When I was 15 I wanted to travel the world. Which I did. It started with a sailing trip to Holland right after high school, followed by a 4-months trip to New Zealand, Samoa and Hong Kong when I was 19. It has continued ever since then, mostly off the beaten path, with a special focus on South East Asia. 
I always felt a strong appetite to learn from other cultures and to seek the unknown. My travels have taught me to adapt quickly in situations that change unexpectedly and to look beyond my own nose. As well as resilience, and the right mix of focus and flexibility. I thought it has well-armed me to face life, no matter what. 
Until I got diagnosed with Multiple Sclerosis. It was in August last year, after weeks of sickness and uncertainty.
I spent the century summer of hot sunny weather mostly between hospital and at home, the windows closed and shaded. I got ridden by a heavy attack of the disease which affected mainly my visual nerves and my legs, but also other parts of my body. I got shortly better in September before it became worse again in October, then better again. 
It's the disease with a thousand faces, no one, no doctor nor scientist, nor other concerned person can tell you how and if it will progress. I had days I wanted to scream at the doctors, to shake them, that they shall give me guidance, safety, trust. The more doctors I got the more trust I lost. I had to find my own way to deal with this new form of uncertainty.
The sad facts
Science has reached a lot over the last couple of years and there are new therapies and medicine on the market to help us to continue a normal life as much as possible by reducing or even stopping new attacks by suppressing our immune system.
In retrospect doctors assume that I have been living with the disease for many years, which is another deep hit considering the years of treatment or therapy I've lost by not knowing about it earlier. There were many health issues, especially with my eyes, but no doctor before ever went further with diagnostics in direction of MS. My body had to compensate a lot and I seemed to think this is all "normal".
The positive facts
But as an optimist I always want to look at the good side of everything. And the good thing is: see how I've lived the past years; I hiked the Himalayas and travelled the world, I studied beside work and worked even harder to get a job I always wanted. Now my future is uncertain. But everyone's future actually is uncertain, that's why it's called the future, we simply don't know what will happen to each of us. 
And believe me, I had and have some very hard dark days sometimes, sad, and in the believe that I've lost everything I've worked so hard for before it really should have got started. But then there are these moments; looking back to what I've reached, working again, being able to travel again, to stand on top of Davos and ride down the snowboard almost like I've done it before. And then I know that I will adjust to this disease but not giving in. I will fight the bad of it but taking the disease itself as a chance. It made me realise, more than ever before, that we only have one life and the present moment, to cherish, to love and to make the best out of it.
The motivation
I wanted to share this with you so that you know; everyone is fighting a battle, and sometimes the battle can be much deeper than we think. And I also want to share it to reduce the stigma. There are a lot of people like me out there, alone in Europe, over half a million, and in America one million of the population, is suffering from this disease, but they also continue their life – we have to find balance with it but we won't give in.
I always loved to feel comfortable while being uncomfortable – and now, after 6 months of adjusting to the disease I'm speaking openly about it and I know, my travels have taught me well; real confidence means to know that you'll be fine - no matter what.
A short summary of what MS is shows the below video: