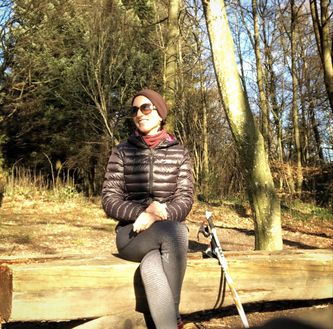 When people face a tragedy or receiving evil tidings, like a I did when I got diagnosed with Multiple Sclerosis and got shaken through by it, the world stands completely still and upside down, things seem to fall apart and no stone is where it used to be before.
With the Corona virus hitting the entire world in a way not many did believe it would, a lot of people, or almost all in a certain way, are now experiencing similar temblors; suddenly you feel your health, your financials, your freedom is at stake, through no fault of your own, unexpected. You feel isolated, vulnerable, you are 'forced' to stay at home, some are not able or allowed to work anymore, feeling stressed and many in the western world state "to deal with the uncertainty is the worst". But in my opinion, that is said by the privileged, with the claim, "someone" should ease it. 
When you get diagnosed with a terminal illness this is what you get, there's no doctor, no epidemiologist, or government who can tell you when it stops or if it stops at all, how you will be able to live in a year or two, there's no "normal" coming back, only a new one, which you can create, first and foremost with your attitude, day by day. 
Or when you live in a country far away from a proper health system, with no access to hygienic facilities, working to feed your mouth day by day, you have other sorrows than uncertainty, because uncertainty is with what you live every day by, with or without a new virus. 
It may be a bit provoking but the gross of the modern world would do well to say good bye to the thought that everything at all costs can be foreseen and controlled. We have to learn the fact that there's no comprehensive coverage for life.  
But there is always something we can learn out of a crisis; and I hope this will be at least (as we know humans tend to forget quickly) that we all learn to become a bit humbler, appreciating every single day we have, in "security" of our own thoughts, because those can be here for us for free, even if everything else around us is uncertain, day by day, they can keep us going, positive and confident and with this, our actions can it too, despite uncertainty.
Love,
Tricia