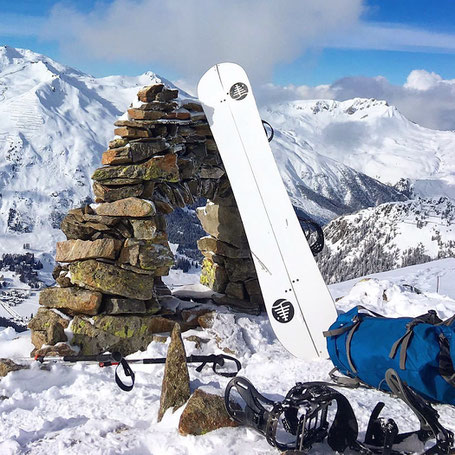 This picture was taken three years ago, on my first splitboard tour. It was eight months before I got diagnosed with Multiple Sclerosis. At that time I was well trained, used to go to the mountains all year around (snowboarding, long hikes, etc). When I signed up for the tour I had no doubts at all to make it up to the peak in the Davos' alps. My personal challenge was more focused on the downhill through the fresh powder snow afterwards.
But in the last third of the ascent, my legs suddenly felt very heavy, I developed tremendous pain in my hips and felt dizzy. When our tour guide asked me what's the matter I remember that I only said "I don't know but something's wrong, I feel like hardly able to keep my legs moving". He didn't give me that feeling at all but I felt very embarrassed.
It was good weather but we were on a critical traverse on an open flank of the mountain; as a tour leader he needed to get the group safely through it as fast as possible. Without questions or comments, he towed me behind him, pulled me and motivated me with every step, in my head I started a mantra to my legs; "you can do this, just keep going, you can do it". The whole group supported me too. It was a long last third of the ascent, but together we made it to this peak - I felt very happy, allowed my body a good rest with tea and food, and then we made it down through the fresh powder, which was an additional challenge for all of us since the weather and with it the sight got bad. I guess my legs were in a kind of automated function, driven by determination, motivation and pure joy. Given that I already spent the day before in an avalanche training during a snow storm it was a pretty intense weekend.

I will never know if it was, back than, my MS interfering or something else, but what I do know is, that:
a) I keep dreaming and working on being back there again! 💪🏼
b) never ever lose your willpower and determination to reach your goal!
c) great leadership is what my tour guide demonstrated in such a situation; fast, target-orientated decision, no long discussions, providing support and motivation!
➡️together with him, the team and my willpower I could do this! 💪🏼
Always remember; especially in these challenging times, no matter how hard it currently feels; keep going, keep focused, believe in your dreams and support each other; together we are stronger!
Love, 
Tricia